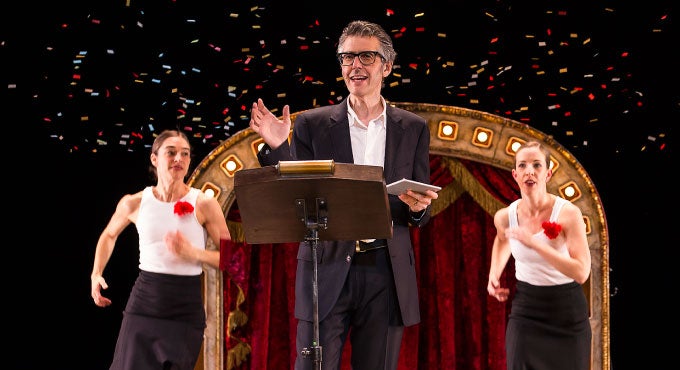 Apr
18
, 2015
Cobb Great Hall
IRA GLASS
THREE ACTS, TWO DANCERS, ONE RADIO HOST
Apr
18
, 2015
Cobb Great Hall
IRA GLASS
THREE ACTS, TWO DANCERS, ONE RADIO HOST
View the Program HERE.
This American Life host Ira Glass joins dancers Monica Bill Barnes and Anna Bass in a show that combines two art forms that, as Glass himself puts it, "have no business being together: dance and radio." One is all words and no visuals; the other is all visuals and no words. The result, Three Acts, Two Dancers, One Radio Host is a lively, funny, "talky" evening of stories and dance about love, about performing, and about losing what you love. Glass delivers his trademark narratives while Barnes and Bass, hailed by The Washington Post as "the Tina Fey of dance" evoke characters through dance. Don't miss out – the show brought the house down at Carnegie Hall and everywhere it's been. This American Life is one of the most popular podcasts in America and has won the highest honors for broadcasting excellence. Monica Bill Barnes and Company are dancers who celebrate individuality, humor and the innate theatricality of life "It's just like a radio show, um, if you picture dancers during all the stories." – Ira Glass
"Equal parts heart and humor." –The Washington Post
"A perfect—and perfectly unexpected—union." –Santa Barbara Independent
Performance Run time is approximately 90 minutes with no intermission.
Age recommendation: All Ages
Media Sponsor: Michigan Radio
Additional Ticket Information

​Performance Run time is approximately 90 minutes with no intermission.
Age recommendation: All Ages