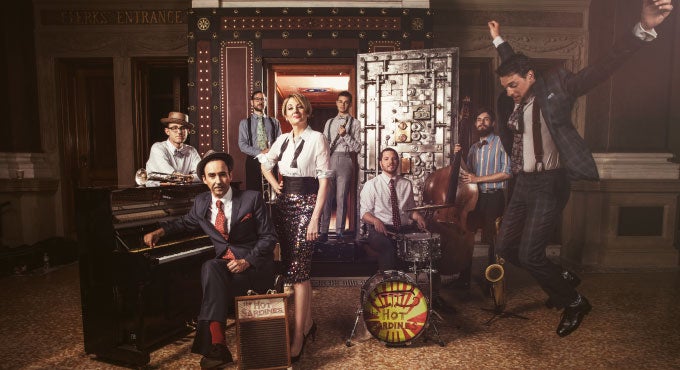 Mar
30
, 2017
Cobb Great Hall
THE HOT SARDINES
Mar
30
, 2017
Cobb Great Hall
THE HOT SARDINES
BACK BY POPULAR DEMAND!
"One of the best jazz bands in New York today." –Forbes Magazine
YOU DEMANDED – SO, THEY'RE BACK! The Hot Sardines return with their unique recipe of hot jazz and sultry standards from the '20s, '30s, and '40s, rich New Orleans sounds, a dash of '40s Paris flavor, and vibrant musical surprises. Steeped in salty stride piano and the music Louis Armstrong, Django Reinhardt and Fats Waller used to make, The Hot Sardines make straight-up, foot-stomping jazz with their own tap dancer as percussionist. The Hot Sardines know how to rock a house! Their name says it all: their iconic 'hot' styling will paint a vibrant picture with smoky sounds and audiences will revel in the steamy, swanky influence of their art form. With their contagious brand of joy, grit, glamour and passion, they invoke the sounds of nearly a century ago, yet stay right in step with the current age. The Hot Sardines was a sellout in 2015 – don't miss out in 2017!
Sponsored by Edge Partnerships; Governmental Consultant Services; and Wolverine Development Corporation.
Additional Ticket Information

Group Information

Contact our Group Sales Dept. for Group Rates at 517.884.3130