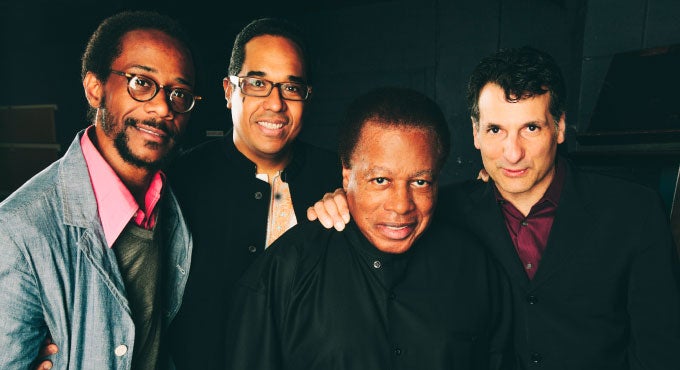 Apr
21
, 2017
Cobb Great Hall
WAYNE SHORTER QUARTET
FEATURING DANILO PEREZ, JOHN PATITUCCI AND BRIAN BLADE
Apr
21
, 2017
Cobb Great Hall
WAYNE SHORTER QUARTET
FEATURING DANILO PEREZ, JOHN PATITUCCI AND BRIAN BLADE
"A band of spellbinding intuition, with an absolute commitment to the spirit of discovery, it has had an incalculable influence on the practice of jazz in the 21st century."–The New York Times
"Wayne Shorter is one of the greatest living jazz musicians." –NPR Music
One of the most influential saxophonists and composers in modern music, at 82, icon Wayne Shorter is a jazz titan, a prolific visionary whose work is history making and astounding. Shorter's trajectory has embodied continual exploration and unencumbered momentum. His past includes Art Blakey's Jazz Messengers and the Miles Davis Quintet, followed by the formation of his own band, the Weather Report, in the '70s. Today, he is unstoppable. With his all-star band combining John Patitucci on bass, pianist Danilo Perez and drummer Brian Blade, Downbeat magazine's Critics Poll named the ensemble the 2014 "Jazz Group of the Year." It "celebrates humanity's hope for harmony," says The Guardian (UK). An entire generation of musicians sees Wayne Shorter as a humble master who has created a timeless vocabulary – as vital as it is unbound.
Run time is 90 minutes with no intermission.
---


There will be an Insight Preview before the performance, beginnig at 7:15pm in the Stoddard Grand Tier Lounge featring Mike Stratton from WLNZ.
---
Sponsored by The Christman Company; and Wolverine Development Corporation.
Media Sponsor: WKAR.
Additional Ticket Information

Run time is 90 minutes with no intermission.